Operating as trustee of the public, and on behalf of various news wire services, my role is to report visually on significant events and the varied viewpoints in our common world. My primary goal is the faithful and comprehensive depiction of the subject at hand. As photojournalists, we have the responsibility to document society and to preserve its history through images forever. Over the years I've captured Cranbrook and area first responders in action; working various accident, fire and conflict areas . Some of my images made news headlines nation wide.
"I'm simply there to tell a story through pictures but most importantly I want to convey to my viewers the truth"
"I don't take photos to put in a box, I like to think I take photos to show the world the reality we live."
Fire crews pull out of Kootenay area
The unprecedented, aggressive behaviour of three blazes in southeastern British Columbia has forced firefighting crews to withdraw from the area, the B.C. Wildfire Service said on Friday.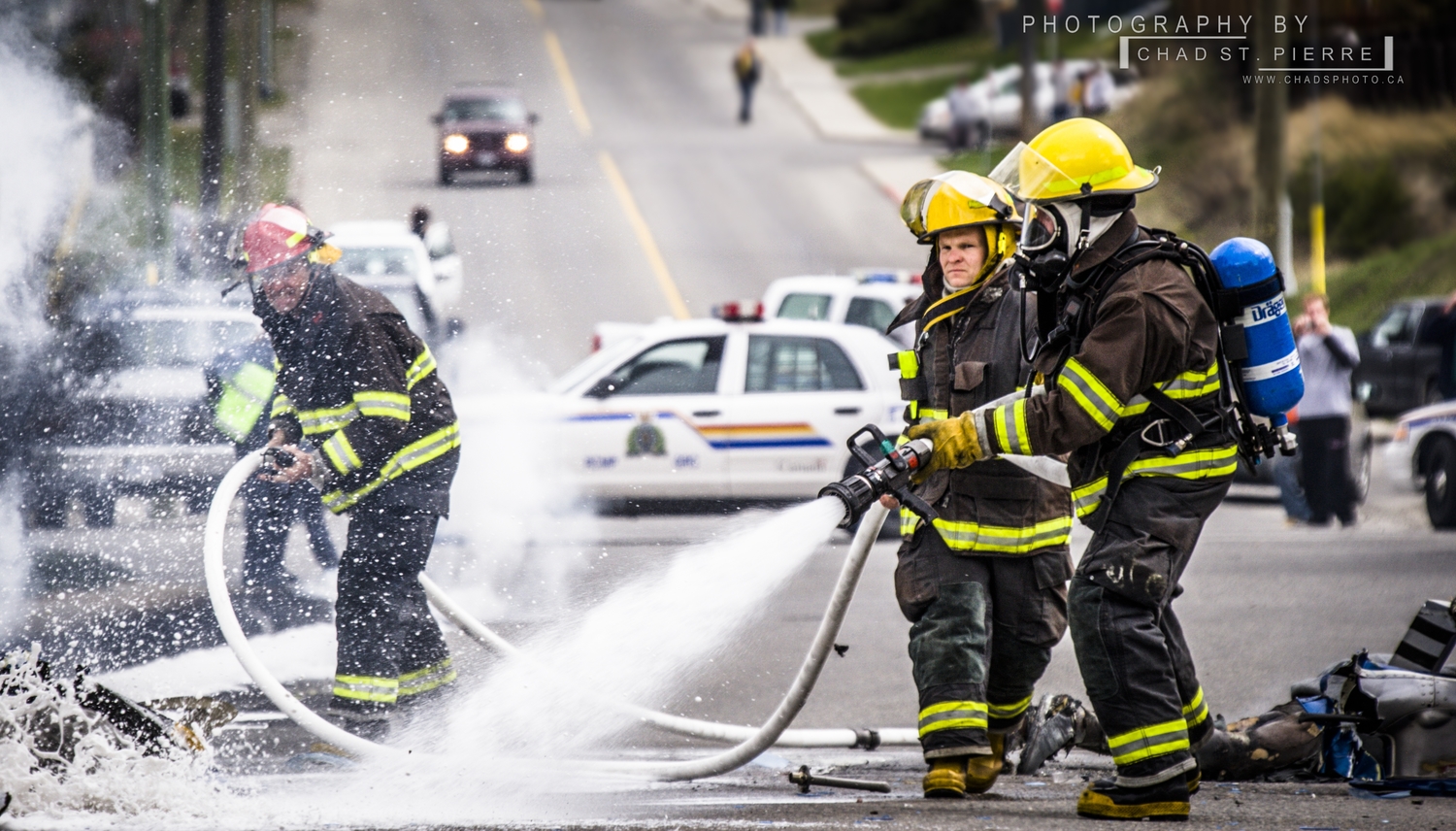 Helicopter was flying erratically before crash
A helicopter that crashed onto a street, killing three on board and a student on the ground, sounded "like a lawnmower running out of gas" before it plunged to the Earth, a coroner's inquest has heard.
Ground crews work hard extinguishing hot spots
BC Wild Fire Service puts out fire near cranbrook
Four injured in steamboat hill crash
A head-on collision on Highway 3/95
Cranbrook RCMP was called to a motor vehicle collision and the Jaffray Fire Department, Cranbrook Fire & Emergency Services and BC Ambulance also attended.
Emergency Response Team called to man isolated in motel
A marksman from the Emergency Response Team (ERT) takes up position on the Nomad Motel upper level in Cranbrook while a man barricades himself in one of the rooms.
In honour of Terry Blanchette and his daughter Hailey Dunbar-Blanchette
Woman pulled from wrecked car
Cranbrook RCMP, BC Ambulance Service and Cranbrook Search & Highway Rescue responded to a single vehicle accident...
Car crashes into Canadian Food Inspection Agency
A car crashed into the front of the Canadian Food Inspection Agency causing damage to the front of the building and sending glass shards all over.
Cranbrook Fire puts out grass fire behind the superstore in cranbrook
Haiti Cranbrook Community Clinic 2015
A team of volunteers headed up by Dr. Bob Cutler from Cranbrook, BC travelled to Haiti this fall to continue working with Haiti Arise ministries...